A Bowl of Rice is a food make with Wild Rice and a Bowl. It is made with a Bowl and Wild Rice, but Wild Rice doesn't seem to have been implemented yet (at least not in 1.8.9 or 1.9 in early 2016). But it is indeed in the land of the lakes although you cannot farm them as of yet.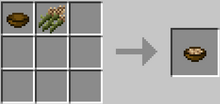 Ad blocker interference detected!
Wikia is a free-to-use site that makes money from advertising. We have a modified experience for viewers using ad blockers

Wikia is not accessible if you've made further modifications. Remove the custom ad blocker rule(s) and the page will load as expected.