The Coniferous Forest are made up primarily of have large spruce-like Fir Trees. Fir Trees are either 2x2 or 1x1 block in diameter and approximately 10-30 meters (32ft-98ft) high. These trees have a special wood type, Fir Wood. Chicken, Cows, Pigs, Sheep and Wolves all spawn in this Biome. Villages and Woodland Mansions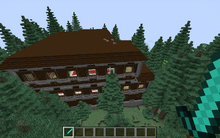 can spawn here as well. A snowy variant of this biome exists.
The old Biome ID before 1.8 was 182.
1.10.2
Ad blocker interference detected!
Wikia is a free-to-use site that makes money from advertising. We have a modified experience for viewers using ad blockers

Wikia is not accessible if you've made further modifications. Remove the custom ad blocker rule(s) and the page will load as expected.