The Highland biome consists of mountains green hills.
Description
Edit
Completely treeless, this biome is mostly grassland with sheer cliffs.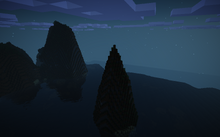 Vegetation
Edit
The only things that grow here, unless other mods are installed, are various grasses including Tall Grass and Wheat Grass.
Mobs & NPCs
Edit
Common passive mobs spawn here.
This biome is somewhat hard to survive in, due to the lack of trees. Travelling can be difficult.
The old ID before 1.8 for this biome was 66.
They resemble the Scottish Highlands, which is also a council area.
Ad blocker interference detected!
Wikia is a free-to-use site that makes money from advertising. We have a modified experience for viewers using ad blockers

Wikia is not accessible if you've made further modifications. Remove the custom ad blocker rule(s) and the page will load as expected.