| | |
| --- | --- |
| | This page contains features of Biomes o' Plenty which are removed in later versions. |

Poison Darts are, as the name implies, darts that have been combined with Poison. They can be shot out of a Dart Blower, but when they are shot out of a dispenser they revert to regular darts (This is most likely a bug).
Oddly, despite "poison" in the name, Poison Darts do not give mobs the poison effect, but rather 4 seconds of immobilization.
Poison Darts can be crafted by combining a Dart with Poison.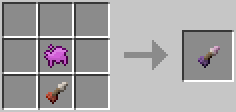 Ad blocker interference detected!
Wikia is a free-to-use site that makes money from advertising. We have a modified experience for viewers using ad blockers

Wikia is not accessible if you've made further modifications. Remove the custom ad blocker rule(s) and the page will load as expected.