The volcano is a unique biome. It is a large mountain made out of stone, Ash Stone, Ash and lava. Caverns are found more often here in this biome. Survival in this biome would be difficult due to the lack of trees, impossibility of farming, and lack of passive mobs.
Be careful though. This volcano could explode at anytime!
On the other hand, finding one can be useful due to the abundance of Ash, which can be made into coal. As of 1.8, it is now an ocean subiome.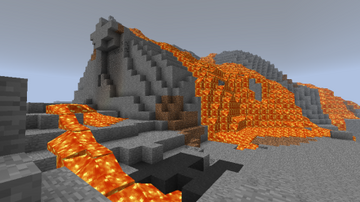 Ad blocker interference detected!
Wikia is a free-to-use site that makes money from advertising. We have a modified experience for viewers using ad blockers

Wikia is not accessible if you've made further modifications. Remove the custom ad blocker rule(s) and the page will load as expected.